Post by treerat on Dec 18, 2008 8:58:08 GMT -5
Here is how I make my own trout spinners . I have a wire former(not required)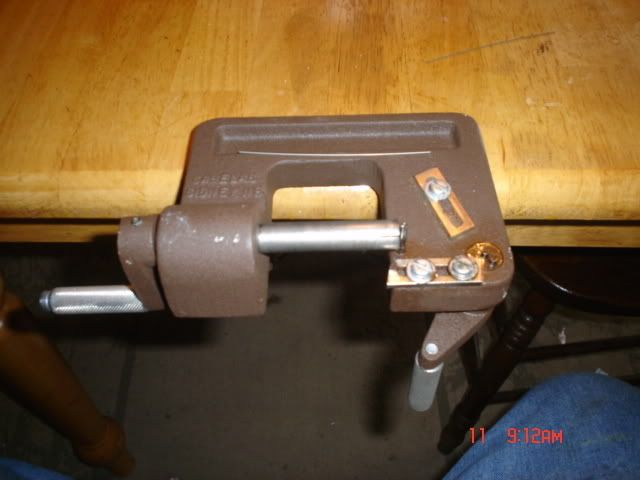 take a piece of wire cut it to about 4"in length .
put it in the wireformer to make your first loop .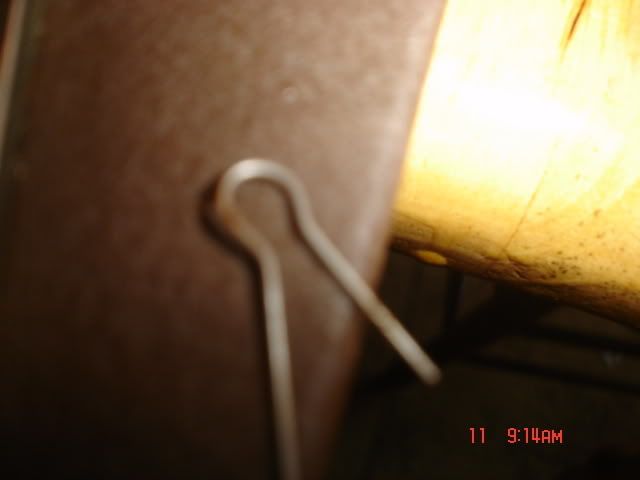 take and close loop with former
after you have your loop made add your blade ,bead for bearing ,body and more beads (more beads not required )
Form another loop
add hook and close loop .
there you have a pure trout catching lure .
Heres the way a friend from another site does it with out the former (source paanglers.com)
The first and most important part of making your own spinner is choosing the correct material. For the purpose of this guide I will be referring to trout spinners, which tend to run on the small side (though the size of my spinners may surprise you).
The wire you choose to use is very important. Next to your fishing line, the wire you choose is the only thing keeping the fish connected to you and your rod. Choosing too light a wire will cause it to bend and deform often, decreasing the time you are fishing and increasing the time you spend fixing the shape of the spinners. On rare occasions, a big trout may actually bend open your loop if your drag is too tight and the wire too light (though this is very rare). I recommend going no lighter than .022 gauge and no heavier than .026. My spinners are all .022 gauge, but I would prefer to use .023. You can buy preformed wire, but I prefer to form them myself.
Now that you have your wire purchased you need something to wrap it around to form your loops. You could purchase a wire former (recommended for mass production) but for the "Regular Joe" like you and I, why not make a wire former at home. They're simple! Get a small block of wood roughly 1 foot long x 3 inches wide. This will allow you some room to work between nails. At one end of the block, pound a small diameter nail in so that it is held tight. Make sure you have at least 1.5 inches of nail sticking out of the wood. More is better, any less and you will have trouble wrapping because of the block surface. Cut the head of the nail off with a hacksaw, Dremel tool, etc. Make sure you file the jagged edges of the cut nail head to prevent injury later.
Next, go to the other end of the block, and with an even smaller diameter nail (Smaller the better) repeat the same step as you used for the first nail. You will use this smaller nail to wrap the hook loop. The reason for a smaller loop is pretty simple. Over the thousands of trout I've caught I have found that the closer you keep your hook to the rest of the components the better your odds of hooking that trout. Even though the difference in the loop sizes is rather small, the difference in your strike/catch ratio will be noticeable if you have a small hook loop.
The next step is to choose your hook size. Take it from my experiences. You are selling yourself short if you use anything smaller than a size 10. I fish Brook Trout streams that are 3 feet wide and have caught 1-inch trout with these size 10's. I don't know how they do it, but somehow those little trout manage to get their mouth around the hook. Don't ignore me here, keep it at size 10. I have tried many different hooks but settled on VMC 9651 trebles. They are the sharpest out of the package that I've found. I also carry a small Whet Stone so that I can sharpen my hook while fishing. A good indicator for whether your hook is sharp enough or not is to run the hook point at a 45-degree angle along your thumbnail. If it sticks, it is sharp enough. It's taken me 8 years and probably 8000 missed trout to realize how HUGE of a difference this makes. This is the BIGGEST thing you can do to make the spinner you are using hook more trout. If you don't believe this try it out for yourself. One more thing, crimping the barbs down is up to you. I notice it's a little more difficult to hook and hold fish, but not that much. It's a personal preference.
Let's move up the spinner wire to the body. You can use whatever body you are comfortable with, but for trout you can't go wrong with beads. Plastic beads are a NO-NO, unless you're really strapped for cash. Brass is the way to go. You want the extra weight so that you can cast farther and more accurately. Buy brass beads from 2mm-6mm. This is the most expensive part of the spinner materials, but they last a very long time. I would recommend buying 5mm and 6mm plastic beads also. Plastic beads are much cheaper than the brass and serve a major purpose.
Sequence is up to the maker. I have used many different bead sequences, all with good success. I have settled on a 4mm-5mm-5mm-6mm-Plastic 6mm (Painted) sequence. I have found that this small-to-large format makes the trout focus their hits towards the back of the spinner. Having the painted 6mm bead in the back provides contrast and another focal point for the trout's attention, therefore making it attack the area of the spinner closest to the hook. If you go with plastic colored beads or painted brass beads, I strongly recommend using a bright color for all conditions. Contrary to popular belief, spinner color is of little importance unless you are fishing over-stocked trout on opening day. If you are moving up a stream from pool to pool, any color spinner will work just as good as the next (No matter what other people tell you). Although if you are fishing the same pool for 100 casts you may want to change colors frequently. Whatever colors you choose, make it a bright one (White, Yellow, etc.). This will help you see the spinner, which is more important. If you can see the spinner, you can see the strike. If you can see the strike, you can set the hook right on time. If you use a black spinner you are going to miss a lot of trout because you're only going to feel the hit, and not see it most of the time. Your response to a hit is much slower if you can only feel it.
It's time to pick your Clevis. A Clevis is a small piece of metal that is horseshoe shaped and used to connect the Blade to the wire. A size one (1) Clevis is good in most cases. There are two main types of Clevis', The Stirrup and the Folded Clevis. Opt for the Stirrup Clevis. It will allow your blade to spin more freely.
That brings us to the subject of Blade selection. Once again, this is totally up to you the builder. I have to say that I dislike in-line spinner blades like Panther-Martins. I don't believe that they spin as well as regular blades and they're more difficult to get to spin freely. I use French Blades religiously, but I also use an Indiana blade with lots of success. I make almost all of my spinners with a size one (1) French blade. I use Brass Blades exclusively but once again, color really doesn't matter that much. Use whatever you're comfortable with. As stated, I will often use a size three (3) Indiana blade also. When you see the size three (3) blade you will think, "Boy, that's big". Don't think that. Just build the spinner and use it. It will work better than the smaller Indiana blades since it is more free spinning. One important trick to do with all your Indiana style spinner blades is to pound them ALMOST flat with a hammer.
A major problem with fishing using spinners is that they are notorious for causing line twists. Twists will make you lose a lot of trout since it becomes harder to feel strikes and make solid hook sets as your line becomes more twisted. Flattening the blade will usually cause the spinner to rotate less thus, causing the line to twist slower. Your line will still twist, but take longer to cause a problem. Every ½ hour you should pull about 10 yards of line off the spool and cut it off. This will result in more fish caught on your spinners.
Well, there you have it. Everything you need to build your own spinners. Look for an initial investment of about $60. Here are several other tips that may help your fishing. First, about every 20 minutes clip off your spinner and cut off about 2 ft of line. This will help you avoid losing that big trout due to frayed fishing line. Next, try to use the same weight spinner as often as you can. Using a constant weight spinner will help you to get very accurate casts, while changing spinners weights will cause your accuracy to suffer. Accuracy is the MOST important aspect of fishing with a spinner. If you can't cast well, you won't catch many fish at all. Always fish upstream whenever possible. This allows you to approach the trout from a less obvious position and present your spinner without them knowing you are there. Cast upstream, reel down. Keep your rod tip as close to the water as possible. This will help you avoid any slack in your line that could hinder your hook setting ability.
With a little work and patience you will get the hang of it fast. It's quite simple. I caught trout with my very first homemade spinner. I've been addicted ever since.